About Dr. Boswell...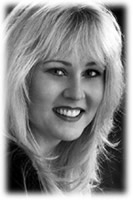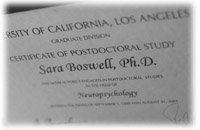 Sara L. Boswell, Ph.D. is a neuropsychologist whose practice focuses on the special needs of the pediatric population, as well as those with a history of traumatic brain injury. Dr. Boswell sees patients age 4 1/2 through adulthood.

Dr. Boswell received her clinical training in adult neuropsychology as a postdoctoral fellow at the UCLA School of Medicine, Neuropsychiatric Institute and Hospital, and her training in pediatrics and adolescents as a postdoctoral fellow at the Help Group/ UCLA Neuropsychology Program, where she was Chief Fellow.

Dr. Boswell holds a B.A. in Psychology from the University of Southern California and a M.S. and Ph.D. in Health Psychology, with an emphasis in Neuropsychology, from the California School of Professional Psychology, San Diego. As part of her training, she completed extensive course work in biology, physiology, and neuroanatomy.

Dr. Boswell completed clerkships at County-USC Hospital in Los Angeles and Sharp Memorial Hospital in San Diego. She received formal clinical training as an intern at the Naval Medical Center Infectious Disease Unit and at Sharp Rehabilitation Center in San Diego.

Dr. Boswell also serves as a staff neuropsychologist at the UCSD Medical Center where she conducts neuropsychological evaluations of neurology and neurosurgery patients.

Dr. Boswell's research includes studying the rates and neuropsychological effects of concussion in high school athletes.

Dr. Boswell is a licensed psychologist in the State of California: PSY 19003.